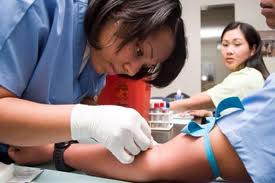 300 W. Swanson, Suite 101
Wasilla, AK 99654
(907) 373-6358
Cost: $3,790
The Phlebotomy Technician program consists of 75 contact hours and will give students the necessary knowledge and skills to practice phlebotomy.
Skills include Universal Precautions for Bloodborne Pathogens and techniques for pediatric to geriatric venipunctures, fingersticks, heel sticks, and handsticks.
Students will also be trained in various laboratory procedures. The program includes national certification as well as CPR and EKG training.
http://labor.alaska.gov/research/training/ETP/Provider/0000000045.pdf